As we welcome in the New Year, put the Xmas decorations away get back to school or work after the holidays, we also enter into the hardest and coldest months of our calendar. Times when the nights are still long and the chances of waking up to a hard frost or snow are high.
For us humans tucked up in our homes, this can be hard enough but for our wildlife, January, February and March are among the toughest of all.
The greater abundance of food from autumn berries and seeds – where these have been left on uncut hedges, is now gone. And with the ground often frozen solid, or covered in snow, it can be very hard indeed for many creatures to find enough sustenance to keep them going through until spring.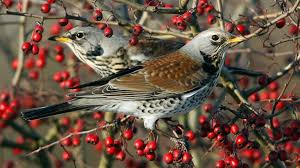 This is a time when the bit of help we can offer, by putting out supplementary food in bird feeders or scattering seeds etc on the ground, can really be a life-line for many species, especially our birds.
For those not sure which food to choose from the many on offer at our garden centres, one of the best all round foods is sunflower hearts or sunflower chips. A seed high in oils and nutrient value, many species – such as goldfinches, greenfinches, great tits, blue tits etc enjoy these. Ground feeding birds such as thrush and blackbird will also eat them if you spread a handful in a cat-safe area on the ground.
Another helpful food to put out in feeders is high quality suet fat balls (without nets its best so that no beaks or legs get caught in them). As the name suggests, the 'fat' in the fat balls provide an important source of 'quick' energy for birds in the colder months. Plus, they are loved by many species such as great tit, blue tit and, if you're lucky you may also get nuthatches and woodpecker.
In really hard weather, farmland birds will also come closer to our gardens. Redwing (looks like a small Thrush) and Fieldfare (about the size of a wood pigeon) both love apple chopped into small rings – and in conditions like last year's snows, putting out food like this really can be the difference between a bird making it through the night or succumbing to the elements.