After a recent bout of success, gymnasts from The Gym Centre/Cheltenham School of Gymnastics and its local satellite club, run by Kerwen and Martin Collett, held at The Cotswold School, have achieved yet more uplifting results over the last few months.
On 16th September 2018 gymnasts attended the Gloucestershire Level 5 and above competition at Fromeside Gymnastics club.  The gymnasts achieved some positive and encouraging results. 
Level 5 – 9 years
Sophie Havill – 2nd vault, 3rd bars – Third Place Overall
Jessica Havill – 2nd vault – Fifth Place Overall
Level 5 – 11 years
Hannah Rowe – 3rd beam  – Sixth Place Overall
Level 4 – 13+ years
Emily Franks – 1st vault, 1st floor, 2nd bars, 3rd beam – Second Place Overall
Emily Rowe – 2nd vault 3rd bars, 3rd floor – Fourth Place Overall
On 7th October 2018 girls from the Bourton classes also competed in Round 2 of the West Country League alongside their teammates. Hannah Rowe competed with her team who placed 6th in Division 4. Jessica Havill competed with her team placing a fantastic fourth place within Division 2.
Most recently, Katie Rowe took part in the Gloucestershire Level 6 competition on the 14th October. Katie came 1st on bars and placed overall in Fourth Position.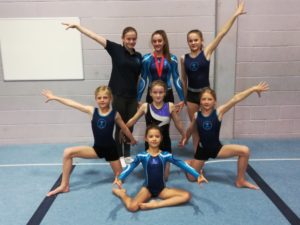 The gymnast's hard work and support from their coaches has led to their continuing development and success.  We would like to invite anyone who would be interested in joining a club with a positive nurturing approach to get in contact via 01451 820015 or 07870624180.